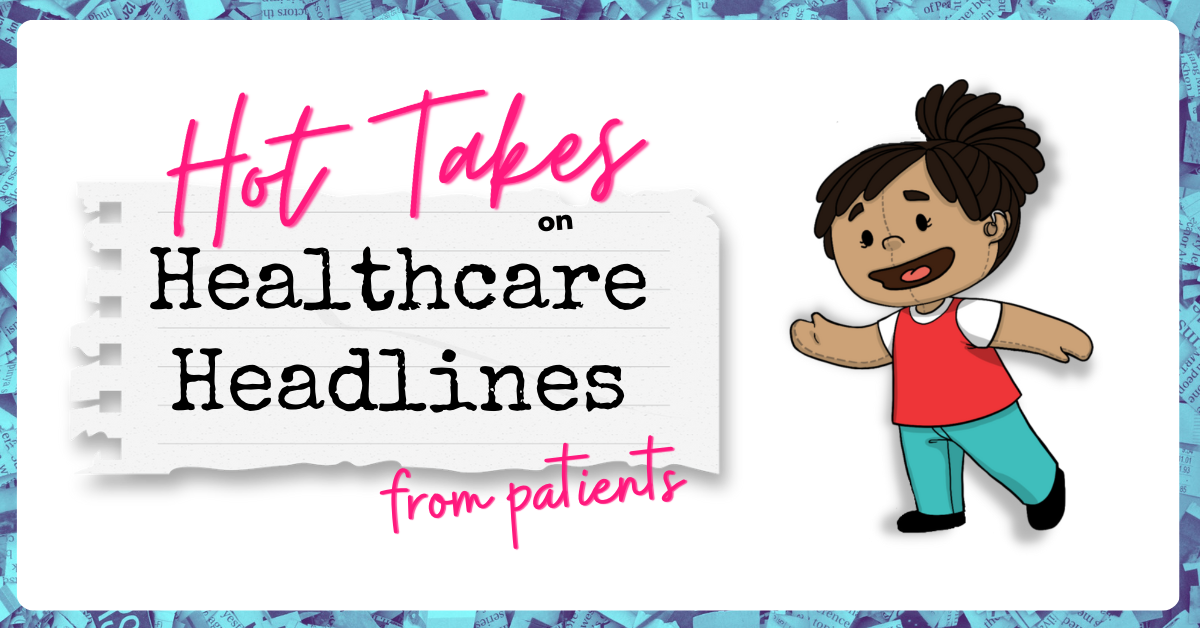 When I read healthcare news, I think about what it means for patients. So, trying something new, here's some hot takes on healthcare headlines…from the patient perspective. Tell me what you think!
Kroger Enters Clinical Trials 🍌
We've worked with countless pharma companies to think through their decentralized trial strategy. Patients do want flexible options for trial visits, and care about both convenience and privacy. Grocery stores generally have parking and access to public transportation, so that's a win, but they'll need to make patients feel secure so that that gossipy parent on their kid's soccer team doesn't start spreading rumors because they saw them in the trial space while picking up a pint of Chunky Monkey.
Drug Store News | Jan. 25, 2023
CVS Health and Walmart Cut Pharmacy Hours 🕒
Both CVS and Walmart are also ramping up their clinical trial footprint, so seeing that they are reducing pharmacy hours is a little bit of cognitive dissonance. Work hard to bring drugs to market, but then make it harder for patients to access them? Not everyone is available to pick up Rx during "business" hours, so this could increase health disparities and "compliance" (hate that word) with their treatment.
Amazon RxPass Offers Generics For $5 📦
Seems like the big news of the week has been Amazon's RxPass. Given the news on pharmacy hours, this service may be just in time. While this certainly adds convenience, there are still privacy and access issues. Just like concerns surrounding Amazon's One Medical acquisition, how will health data and purchasing behavior be aggregated? As a chronic illness patient, I have multiple patient portals across specialists. Will I also need to manage prescriptions across pharmacy/specialty pharmacy/Amazon to get everything I need? Love the idea to create cheap, convenient ways to get meds, but I may not be the target market here…yet.
Fierce Healthcare | Jan. 24, 2023
AbbVie's Humira Biosimilars Hit the Market 💉
Speaking of off-patent medications, biosimilars are also making the news again. I served on the FDA advisory committee that voted to approve many of the biosimilars, but the big question we always had was, "are they worth it?" Do they actually make biologics more accessible and affordable? Also of concern for patients is if they get a choice in biosimilar or not. Similar to generics, biosimilars may be slightly different, and patients want choices—even between biosimilars—and for their doctor's prescription to be honored. Let's see how this goes.
In FDA News 👩‍🔬
Tidepool's Loop app gets FDA clearance — woohoo! Patients were the first to hack together an artificial pancreas. Proof positive that we should ask patients in order to create meaningful innovation. Congrats Tidepool!

FDA eases the ban on blood donation from gay and bisexual individuals — finally.
What Do You Think? 📣
Have a hot take of your own to share? We want to hear it! Share your hot takes using the #SavvyPatientHotTakes and tag Savvy Cooperative on LinkedIn, Instagram, Twitter, and/or Facebook.
We want to keep the hot takes coming, but only if the people want them! Let us know how you felt about this roundup with a thumbs up or thumbs down!



Spread the word! Share this post with your social networks.
Jen Horonjeff, PhD, is a life-long autoimmune disease patient and brain tumor survivor turned human factors engineer, academic, FDA advisor, and now the founder & CEO of Savvy Cooperative.