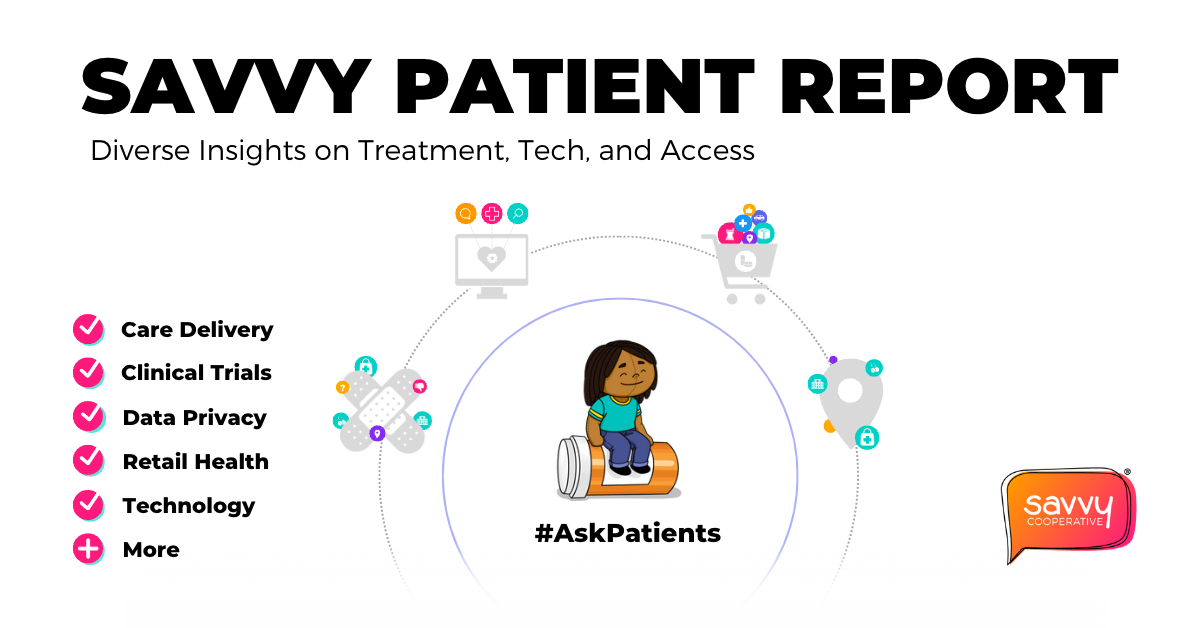 When we talk about designing inclusive healthcare innovations at Savvy Cooperative, we're talking about more than just tokenistic casual patient involvement. Generally speaking, any patient input can be better than none, with the caveat that you need to understand the limitations of the sample and research methodology. When it comes to the sampled population, it is crucial to include a diverse set of individuals, especially those from historically excluded communities, if we hope to create more parity, access, and impact for all patients. Asking diverse patients is the key to unearthing insights that are necessary to create meaningful innovations that can change the foundations of health with patients truly at the center.


Watch Patient-centricity in a post-COVID world starts with inclusivity, a patient perspective (30 min)

To help get those gears turning, we've asked a diverse set of the patient community what they think about what has innovators abuzz about reforming the care experience. Here's what they told us—complete with full report details, a snazzy infographic to share with the patient champion colleagues in your life.
To help you start to see how valuable diverse patient input is and how it can be used to inform future health innovations and initiatives, we did what we do best: we asked patients! We sampled 50 patients that represent historically excluded communities across a range of conditions and asked them to share their experiences around a range of topics, including their diagnosis, treatment decision-making, technology use, and access to care. Below you will get a snippet of what they told us. You can also download the full report for free! Here are some of the key areas covered:
The Patient Experience Extends Beyond the Clinic
Patients are people, people with a lot going on. Innovators often get caught up in their snazzy new solution without taking into consideration if it really matters to patients and their care teams. Too often, innovations are designed and developed in silos, and then don't make an impact or integrate seamlessly into patients' lives, adding to the hurdles they must navigate to maintain their health and access care.
Outside of the administrative burden of care, participants shared information about how their diagnoses led to mental health challenges like depression and anxiety. Additionally, many patients added that healthcare providers were not always attentive to their mental health needs. If mental health needs are overlooked by providers, you can imagine they are often not considered by innovators who fail to ask patients in the design process.
This provides an opportunity for innovators not only to differentiate with exceptional design, but more importantly, with empathy.
Watch Value of patient insights from patients —a case study with Bayer ( 3 min.)
Care Settings and Treatment Options: Patients Weigh Trust and Convenience
Retail Health Clinics
Retail health clinics are becoming increasingly popular because it affords a lot of benefits to patients who value convenience, ubiquity, and a loyalty program versus a waiting room experience. While some dream of a day where they can get pet treats, body wash, and their prescription refill in one stop, there is still hesitation around this option.
The research report below details that around three quarters of participants felt extremely or very comfortable receiving care in a doctor's private office, compared to a quarter of participants who indicated feeling extremely or very comfortable receiving care at a retail store like Target or Walmart.
"My doctor is the most trustworthy because he best knows my health history and what could potentially cause me harm."

Savvy Patient Perspective on Care Preferences
For some, retail health clinics aren't practical given the type of treatment they need. For others, they downright just don't trust them yet.


Telehealth
Telehealth's explosion amid the COVID-19 pandemic undoubtedly changed the conversation on virtual care despite reimbursement and policy challenges. In our sample, most patients indicated they have had a telehealth appointment and discussed telehealth positively, especially for routine appointments or check-ups without lab work. Benefits included convenience and decreased worry about transportation or childcare, which are barriers to seeking care in a traditional care setting.
Even such a lauded care modality has its limitations. In some cases, it just can't replace the care patients want with in-person visits.
"There are some issues that are better conveyed in person, also if there is more hands-on examination or lab test needed, you'll have to go in anyway."

Savvy Patient Perspective on In-Person Doctor Visits
And for others, frustrations were technological. Participants overwhelmingly used smartphones on a regular basis, allowing for better access to these virtual services; however, unstable wifi connection stymied the value of virtual care for some—especially for those in rural areas.
Clinical Trials
While there is a focus on increasing representation from historically excluded communities in clinical trial participants, the participants in our research cited travel, childcare, and other conveniences as barriers to clinical trial participation. Over two thirds of participants identified the time commitment and the travel required for trial visits as the top barriers towards participation.
"Let people know what they are getting into and how it can affect them and their families in the long run. Be accountable when things go wrong and pay clinical trial participants well."

Savvy Patient Perspective on Clinical Trial Participation
Like telehealth, some aspects of clinical trials have also moved into the virtual space. Savvy regularly helps innovators refine their decentralized clinical trial experiences with the help of patient insights provided from diverse participants.
Watch Promise of decentralized clinical trials from patients—a case study with AstraZeneca (40 min.)
As clinical trials become even more accessible and inclusive, they still face looming concerns that need to be considered when iterating and optimizing those patient experiences.
What concerns do patients have with clinical trials?
Overall, patients expressed apprehension or discomfort with clinical trials due to:
Data Usage

Privacy concerns

Historical injustices

Efficacy of study treatments

Compensation and reimbursement

Time commitment and scheduling



Medications and Therapies
Not surprisingly, trust impacts how patients want to learn about their treatments. Participants overwhelmingly wanted to discuss new medications with their specialist who is an expert in their specific condition(s). If a specialist is not available, primary care doctors are also trusted resources.

Outside of the doctor's office, patients identified disease-specific online communities as a source for both information and mental health support they visited most frequently with varying degrees of use and trustworthiness.
"I frequently browse subreddits related to my health conditions that I look to for advice and sometimes comfort."

Savvy Patient Perspective on Clinical Trial Participation
In our research, just under half of participants engage in an online support group related to their condition. Patients are tenacious and capable healthcare problem solvers. Omnichannel empowerment paired with friendly design will be increasingly important as we co-design the future with patients.
Wearables and Digital Technology Are Here To Stay—And So Are Data Privacy Concerns
Technology can be a great enabler for access, ease, and improving the lives of patients. Smartphones are nearly ubiquitous. All participants in our research had tried some kind of health-related wearable like Apple Watches, FitBits, and pulse oximeters were the most widely used.

It looks like the next frontier in digital health isn't just new technology— it's earning and keeping the trust of patients.

Less than half of participants find devices that collect health data either "somewhat trustworthy" or "very trustworthy, with a similar number indicating" that they would not want to share their data with big technology companies.

While big acquisitions and consumer brands moving into healthcare are making headlines, their true value has yet to be tested by the most important judge of all—patients.
_____
Savvy is here to make sure that wherever healthcare's headed, that the key components include valuing, including, and improving the patient experience in the innovation process
Jump aboard! There's plenty of room!


---
Download the Full Savvy Patient Report
What you see here is only the beginning. Check out the full report to dive even deeper in to these diverse patient insights.
More Insights Await!
Unlock more data and patient insights. 🔓
Get the full report emailed to you. 💯
Drop us your email and we'll send it over! ✅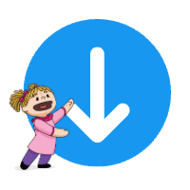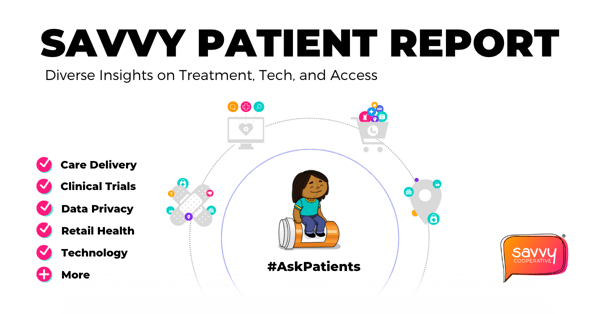 Get everything you found here and more! Drop us your name and email and we'll send along the full report for you to download.
Infographic: Patient Attitudes on Healthcare Innovation Trends
Dive into the Savvy Patient Report report highlights with this immersive infographic! When sharing please tag Savvy Cooperative and use #AskPatients alongside any of your favorite, relevant hashtags. Click infographic image to see or download in full resolution, PDF format. (1.7 MB)