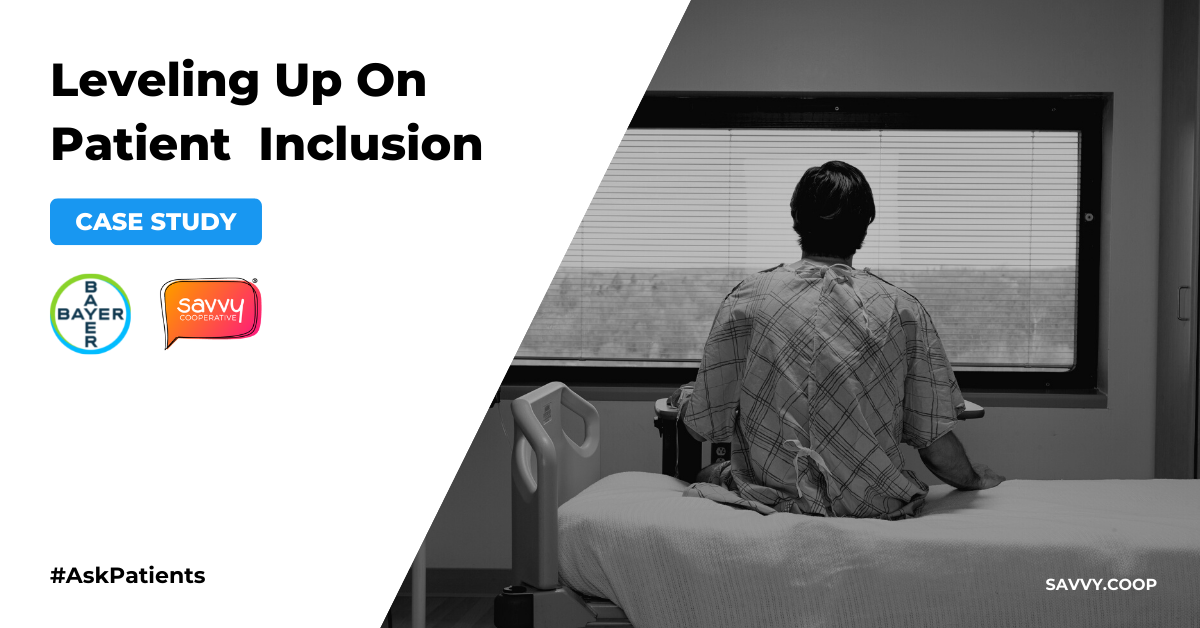 Explore how Savvy Cooperative and Bayer Pharmaceuticals worked together to elevate and streamline diverse patient experiences into their initiatives.
The Challenge
The Bayer patient advocacy team was trying to manage different departments across therapeutic areas. Their approach to patient engagement was more reactive—requests for patient input were often last minute, which didn't allow for the lengthy contracting process and the resources to connect with diverse patients. This approach led to missed opportunities to meaningfully incorporate the patient voice in their work.
Bayer wanted a seamless and efficient way for its various teams to regularly gather diverse patient input, for both large projects and quick gut checks to validate their hypotheses along the way.
The Approach
Savvy worked with Bayer's team to develop and implement a custom subscription model, offering Bayer a solution that could be easily integrated across all departments. Savvy strategy calls helped Bayer stay on top of their patient input needs so they could develop and deploy meaningful patient engagement opportunities to inform their work. Additionally, Savvy dispensed fair market value payments to all patients respective to the value of their expertise contributions.
1. Rare Disease Interviews
Bayer was looking for patient input on prototypes of a support app to be used in a very challenging ultra-rare therapeutic area. Given the eligibility criteria, Bayer communicated that even connecting with a single patient would be considered a success. Through its unique co-op model, Savvy's members in related conditions reached out and got in touch with several patient leaders in the rare community of interest, who then shared the gig within their closed groups. The gig was overenrolled within 2 days.
We were able to quickly and effectively test, validate, and adjust our hypothesis through real patient insights in the challenging rare-disease area. We are happy that they helped us truly co-create the right prototype and value proposition for our patients from the early stages of our catalyst fund project.
2. Innovation Challenge Patient Jury
Bayer hosted Grants4Apps, an innovation challenge designed for startups innovating in certain therapeutic areas. Bayer knew it was critical to include patients in the decision-making process regarding who would receive one of their selective grants. Savvy recruited patients from across therapeutic areas to review the startup applications and vote on which ones created the solutions that had the highest impact for patients.
"The patient jury spent hours providing detailed feedback on the startup initiatives in our grants program -- enough that the team reassessed and included an initiative that was previously not considered for inclusion."
3. Patient Experience Video

Bayer wanted to highlight the real patient experience of someone living with heart disease for its internal and external educational efforts. Savvy identified and connected the team with a patient who met the eligibility criteria and could attend an in-person video shoot in New York City to tell their story on camera.
"Savvy helped us find a patient living with heart disease – this first-hand shared experience will help others understand the high disease burden, how they cope with daily life challenges and what they wish for the future."
4. Patient Insight Subscription
Through their subscription, Bayer was able to easily get on calls with patients each month across therapeutic areas, including dermatitis, heart disease, rare diseases, and fertility challenges. This allowed them to quickly validate their hypotheses and guide their work along the way. They also deployed periodic surveys to gather data from a larger sample.
Savvy was there for Bayer every step of the way. Bayer received monthly strategy calls, which allowed Savvy to flag any issues with Bayer's current understanding of the patient experience as well as advise them on their approach to gathering input from various communities.
Bayer used their subscription to regularly access patient insights, which helped inform where to focus their larger patient input efforts. They knew they still needed to conduct additional gigs to get broader patient insights, and when they did they received a discount on their Gigs.
"The subscription has enabled us to offer our teams several engagement activity options, which they have found very useful. The surveys have enabled the different therapeutic area teams to gain quick insights while the strategy sessions have provided a good starting point to plan further, larger projects. We also value the discount on gigs as these projects often follow on from the surveys and strategic calls."



Start Your Patient Insight Journey
Have a project in mind? We want to hear about it! Check out some of our project capabilities and schedule a call to chat.