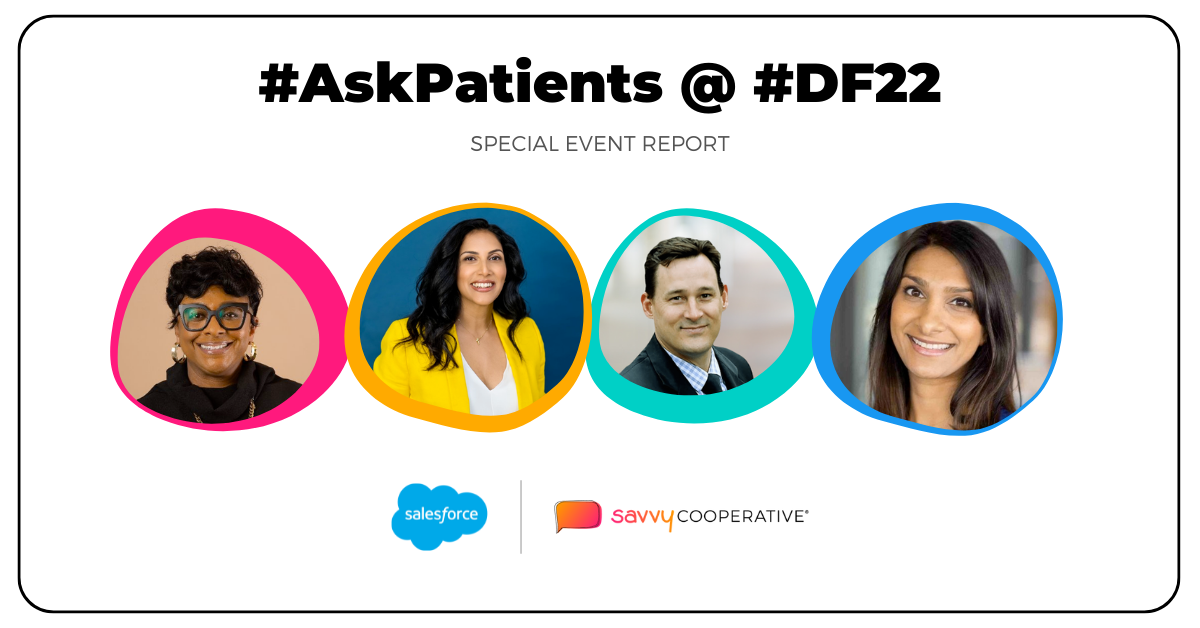 We teamed up with Salesforce for Dreamforce 2022 to discuss what they are dreaming up in the future and what it means for patients.The healthcare and life sciences sector is among 14 of the industries using Salesforce as its customer relationship management (CRM) platform, all of which were on display at the September 2022 event. Savvy was on the scene to see just how all these big ideas around healthcare and technology align with patient experiences, priorities, and expectations. Here we'll explore three major themes that we see having notable implications for patients and their care teams.
Get a sample of what's in store with the highlight carousel below.
Health Equity
Health equity was, in various ways, at the core of every conversation we had at the event. From company values to focusing on personalization and improving care for historically excluded communities, the executives we spoke with share the view that in order for healthcare to be delivered equitably, the technology, design processes, and innovations need to be accessible and inclusive.
You have to love hearing that! Let's dive in further.


As a physician, caregiver, mother, and the Chief Health Officer at Salesforce, Fatima Paruk, MD can appreciate both what goes into developing a meaningful patient experience and how it feels to give and receive first class care. That's where health equity by design comes in, and was her motivation for stepping into the role at Salesforce. Dr. Paruk wanted to personalize the patient experience to meet folks where they are at in their lives, with the tools and knowledge they need at their disposal.
Dr. Paruk: It's all about figuring out how we take the capabilities which exist to date from a technological perspective, and apply them to being able to create access to care, to being able to make our processes a little bit more frictionless, to make them easy to get the job done, and to make people healthier and to keep them engaged over the course of their entire life, whenever, wherever they are.
For Dr. Paruk, this goes beyond meeting expectations of a growing digital health landscape, it means a full commitment to health justice—an endeavor she claims is still very much in its "infancy."
Creating meaningful, tech- and data-driven engagements with patients and their care teams is going to become increasingly important as companies build digital health solutions.
During the Healthcare and Life Sciences keynote, LaShonda Anderson-Williams, CRO + SVP, Health + Life Sciences at Salesforce discussed the role technology plays in health equity, with "real-time data" access enabling new and better experiences for all health customers—including patients a
Anderson-Williams: Health equity is a topic no matter if you're a payer, provider, medical technology, or pharmaceutical company, and it's a barrier that we all face today.
Technology such as telehealth, health scores, longitudinal patient records, and patient communication have the potential to impact how patients consume and maximize the benefits of the care that is offered to them, all in a personalized way that creates a more seamless, efficient experience.
As more technology and personalization rolls out, the key will be to ask patients for their input along the way in order to truly create more meaningful and patient-centric digital health innovations of the future.
Experience Design
At Dreamforce we caught up with Kevin Riley, Salesforce's Chief Customer Officer + SVP, Health + Life Sciences, who after 27 years in health and life sciences, says that health equity has to be a core value in building tech that serves patients and other healthcare stakeholders. The system is currently "built for those who have means," he added.
Riley: If we're not serving all of us, we're not serving any of us.
With a growing healthcare, digital health, and life sciences customer base, Salesforce's ecosystem of health information is increasingly becoming more complex—and so too will the need for alignment with patients and other customers in that ecosystem.
Alongside this focus on health equity is the application of customer-centricity with the goal of more accessible, inclusive, and frictionless patient experiences enabled by what Riley calls the AIR information model: Automated, Intelligent, Real-Time. "Information derived six months ago for my profile isn't satisfactory. It needs to be real-time. So this is where we are concentrating."
Riley: A single patient who knows their benefits is able to actually potentially enter into a clinical trial at a pharma company, have access to information they need…It's making a frictionless center where it actually makes a glide path for everybody.
The more quality information that patients and caregivers can have at their fingertips, the more informed and empowered they can be to make better decisions related to their health and well-being. As these exciting developments in digital health solutions like those Salesforce is developing evolve, it will be critical to keep a pulse on how patients are evolving along with them.
So, let's keep asking patients!
Scaling Patient Relationships
When we caught up with Salesforce's SVP and Chief Medical Officer Geeta Nayyar, MD, also fondly known as "Dr. G," we got more answers on what they have in store for the patient experience.
Dr. G: The reality is our agile, scalable CRM platform has a lot to offer the healthcare industry, very similar to the digital transformation we've done in fintech, in manufacturing, in hospitality, in travel. Healthcare could use some of that, right?
Trust is all that more important given the challenges of the pandemic and changing attitudes about technology tools like telehealth and social media. Dr. G aims to level up and strengthen the relationship between the patient and their care team—and is open to whatever that might look like.
Dr. G: We want it to be a customized experience, and when and where you want it. Whether you're walking your dog or you're on your bike, whether you're in your living room, or it's time to come into the office and see somebody like me.
We need to remember that with a growing digital health landscape, different people will have different preferences related to types of devices and engagement strategies. Access and flexibility across that ecosystem will be crucial to consider as we collectively aim to meet patients where they are in the way that they want to be engaged.
Where there's a digital health touch point, there's a patient story and an opportunity to co-create the future of health. We hope as you consider creating new technologies and health innovations, you too will "ask patients."